Welcome to Reception's Class Page
Welcome to our class page. In Reception you will find 30 fantastic children that are ready to learn. Miss Kendall is our class teacher and is very well supported by Mrs Hart. We also have two class bears called Louis and Dudley. Dudley enjoys going home with the children! Please check the page regularly to follow the exciting learning journey of our class.
Please note- Reading books are changed every Monday, Wednesday and an online book will be allocated on Friday. Please ensure you sign your child's reading record so we know they are ready for the next book.
Summer Term
What an exciting start we have had to the summer term. Our topic at the moment is New Life. As part of this topic we are learning all about life cycles. In the first week of term we picked up some eggs from the farm. We put them into our incubator and then waited 21 days for them to hatch. We now have 15 healthy fluffy chicks. We are enjoying watching them grow!!
We also have caterpillars that have just started to go into their cocoons, ready to become butterflies. We enjoyed reading the story of The Very Hungry Caterpillar.
We read the story of Jack and the Beanstalk and planted bean plants.
Tour De Yorkshire
On Friday 4th May we enjoyed watching the Tour De Yorkshire come through Otley. We made flags and enjoyed cheering on the women's race.
St Joseph's Day
On Monday 19th March we celebrated St Joseph's day. This started with a Mass in the morning followed by writing facts about St Joseph and making cards. In the afternoon we all had an ice lolly as a special treat!
On Thursday we enjoyed a trip to Otley library as part of our Reading month. We enjoyed listening to some stories. We are looking forward to a reading breakfast where we can share our love of stories with parents.
During Lent, St Joseph's are supporting 'The Good Shepherd Appeal' in raising vital funds for those less fortunate. We will be selling toast every Tuesday morning. We raised lots of money at the KS1 bun sale on Monday. Many thanks for your bun contributions!! Reception throughly enjoyed their sweet treat!
Playing in the snow!!
The children had lots of fun playing in the snow making snow angels and snowmen.
Visit from the Fire Service
On Tuesday morning we enjoyed a visit from the Fire service. We learnt lots about how to stay safe and the importance of our smoke alarm. We also learnt about road safety and and the other jobs firemen do such as rescuing people from road traffic accidents. We enjoyed trying on the Fire clothes...
Chinese New Year
Reception have enjoyed learning all about the celebration of Chinese New Year this week. On Tuesday we enjoyed a visit from Mrs Choo who told us all about the celebration and brought some super resources to share with us. Every child also went home with their own fortune cookie.
On Thursday we enjoyed trying some Chinese food. The prawn crackers were very popular as were the noodles!
5 4 3 2 1..... Blast off!!!
SPACE WEEK
What a fun whole school topic week we have had learning all about Space. We started off our week with space themed fancy dress. During the week we have done lots of other fun activities including space biscuit decorating, visiting the planetarium, rocket experiments with Mr Pratt, looking at Mr Wrights telescope and a space quiz. We have also been working hard in our classroom learning about which planets make up the solar system. We enjoyed reading 'Whatever Next' by Jill Murphy. In this story the bear goes to moon in a rocket. We imagined what would happen if we went to the moon.
This week we have been learning about addition. We recorded some of our number sentences. Next we are going to move on to learning about subtraction.
RSPB Birdwatch- January
This week we have been helping the RSPB by spending some time counting the different birds we can see in our outside area. In order to attract the birds we all made bird feeders. This week we are writing instructions to help other classes make bird feeders. We are also writing lists of the things we needed to make them. Here are some pictures of us twitching!
We loved making bird feeders......
Spring 1- January
This week we have been reading the story of 'The snowman' by Raymond Briggs. We enjoyed thinking about where we would go on a journey with a snowman. Heidi said " I would go to to Lego land before I get too old" while Caitlin said " I would go to see Mary Poppins".
In RE this term our topic is 'Getting to know Jesus'. This week we have been thinking about Jesus loves everyone and how we can show our love for Jesus.
This week we also began our music lessons with Mrs Shakespeare. We enjoyed learning how to move to the music. It was just like Strictly! Here we are in action.....
Christmas Performance
On Thursday the children performed our Christmas Nativity 'The little angel gets her wings'. They were all super!!
Christmas Tree Festival
We thoroughly enjoyed our trip to the Christmas Tree festival. We sang lots of carols alongside our Year 6 buddies and the children from Year 2. We made everyone very proud!
Autumn 2
Otley Science Festival- Birds of Prey
We had a wonderful time at the science festival. We saw a selection of owls and birds and learn't lots of different facts.
This half term we are learning about Celebrations. We started off the topic by focusing on the book Kipper's Birthday. We wrote cards, invitations and shopping lists for a party. In Maths we have been learning about counting and number recognition and addition.
Our topic in RE this half term is God's family. We have enjoyed learning how we are all a part of different families, St Joseph's Family, Our own family and God's Family.
Last week our Community Police Man came to play with us.
Heroes Week
During Heroes week we focused on 'People that help us'. We had a visit from two nurses and a policeman. We also has a visit from some Guide Dogs.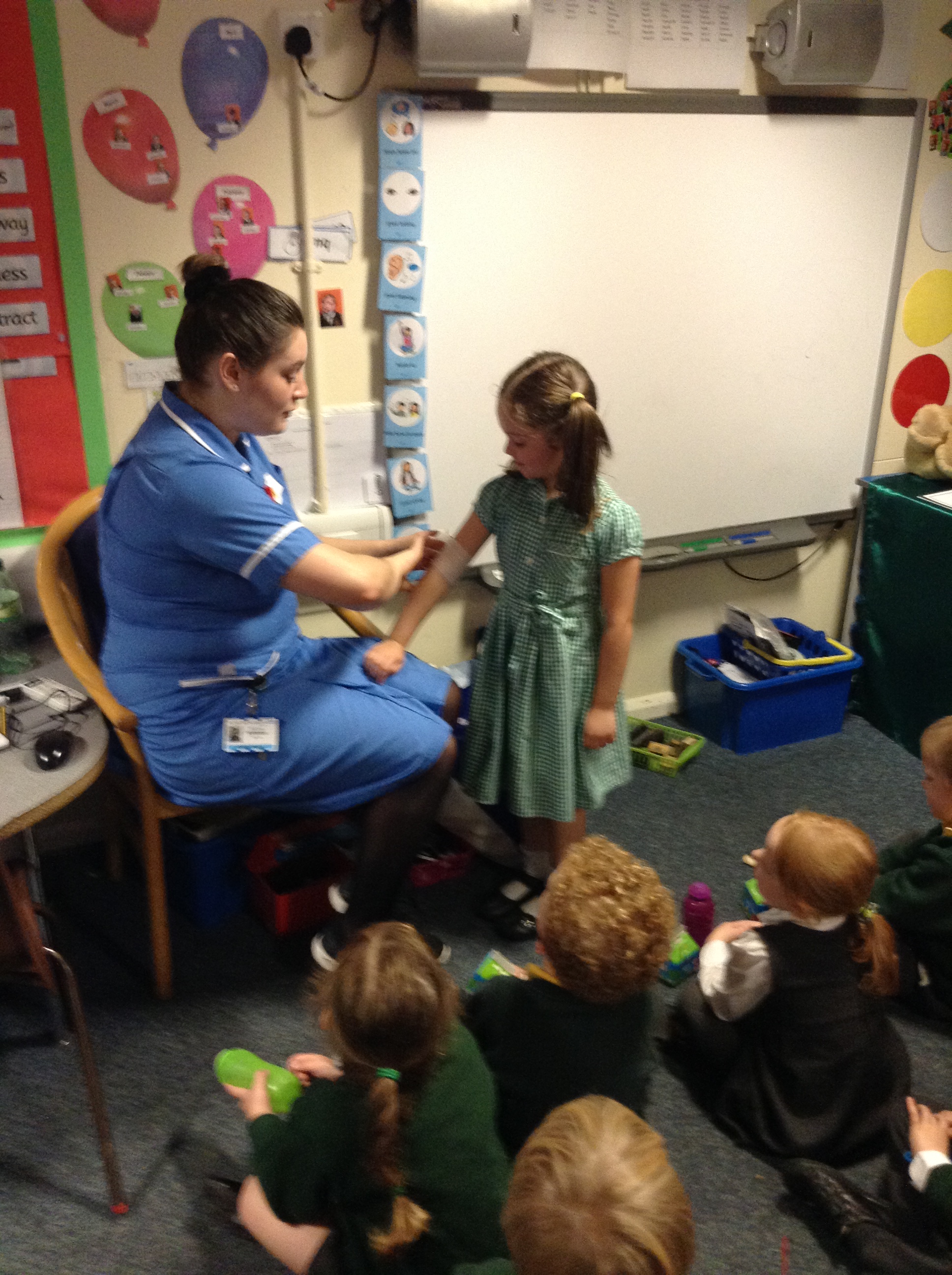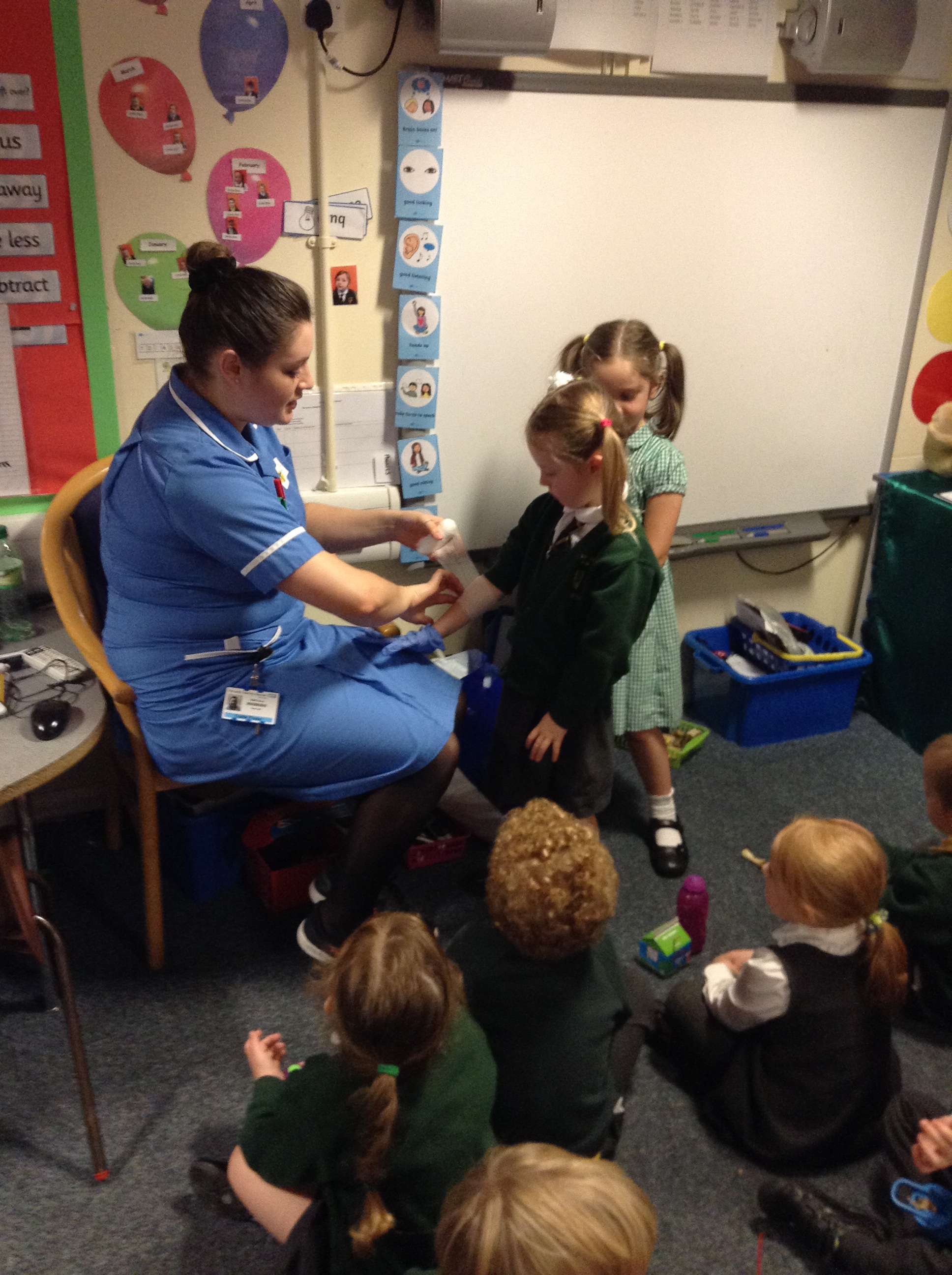 Autumn
Autumn is finally here!!The leaves are changing colour and are falling off the trees. We enjoyed exploring in our school grounds for some autumn treasures...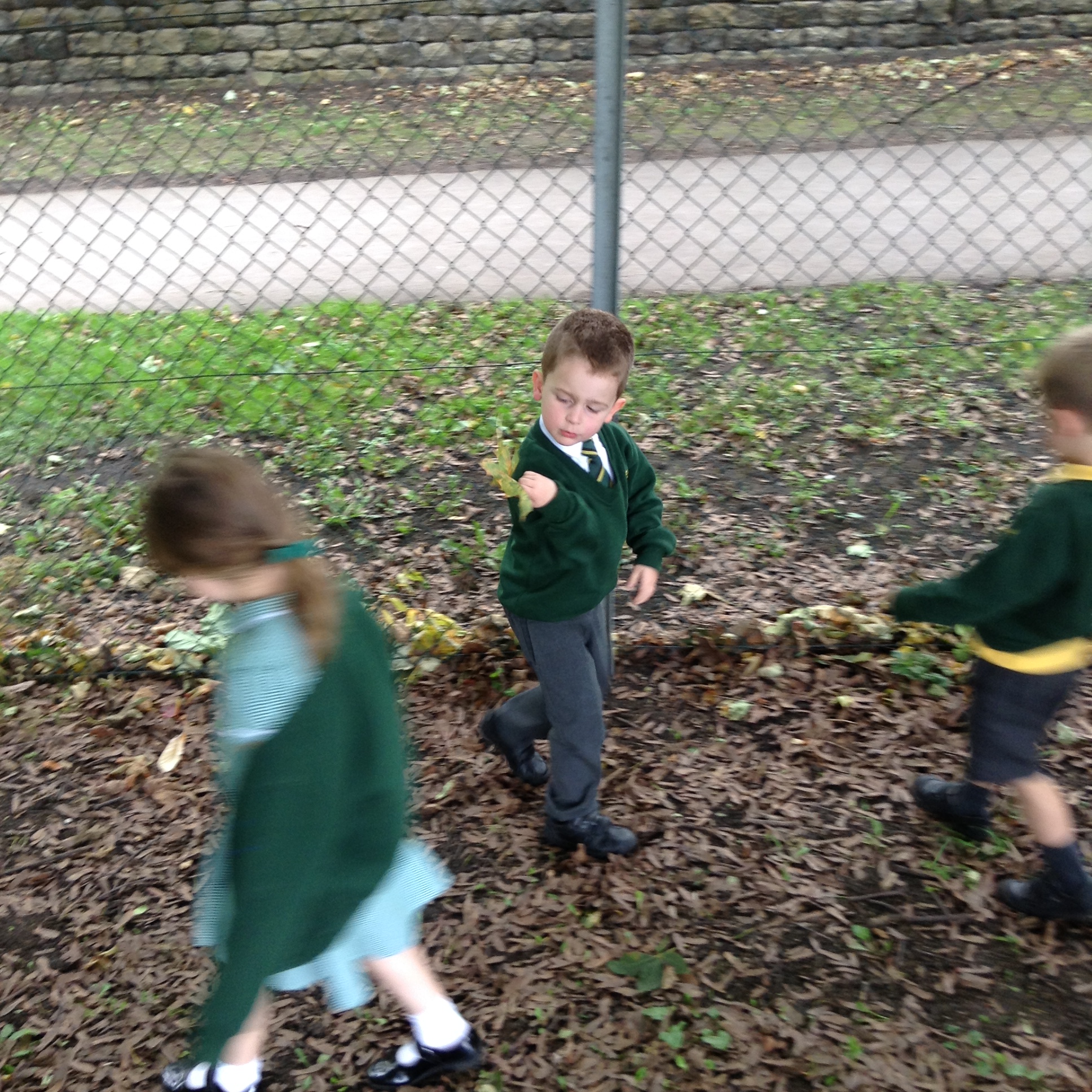 Our Buddies!!
This week we met our buddies. We were really excited! We had great fun getting to know each other.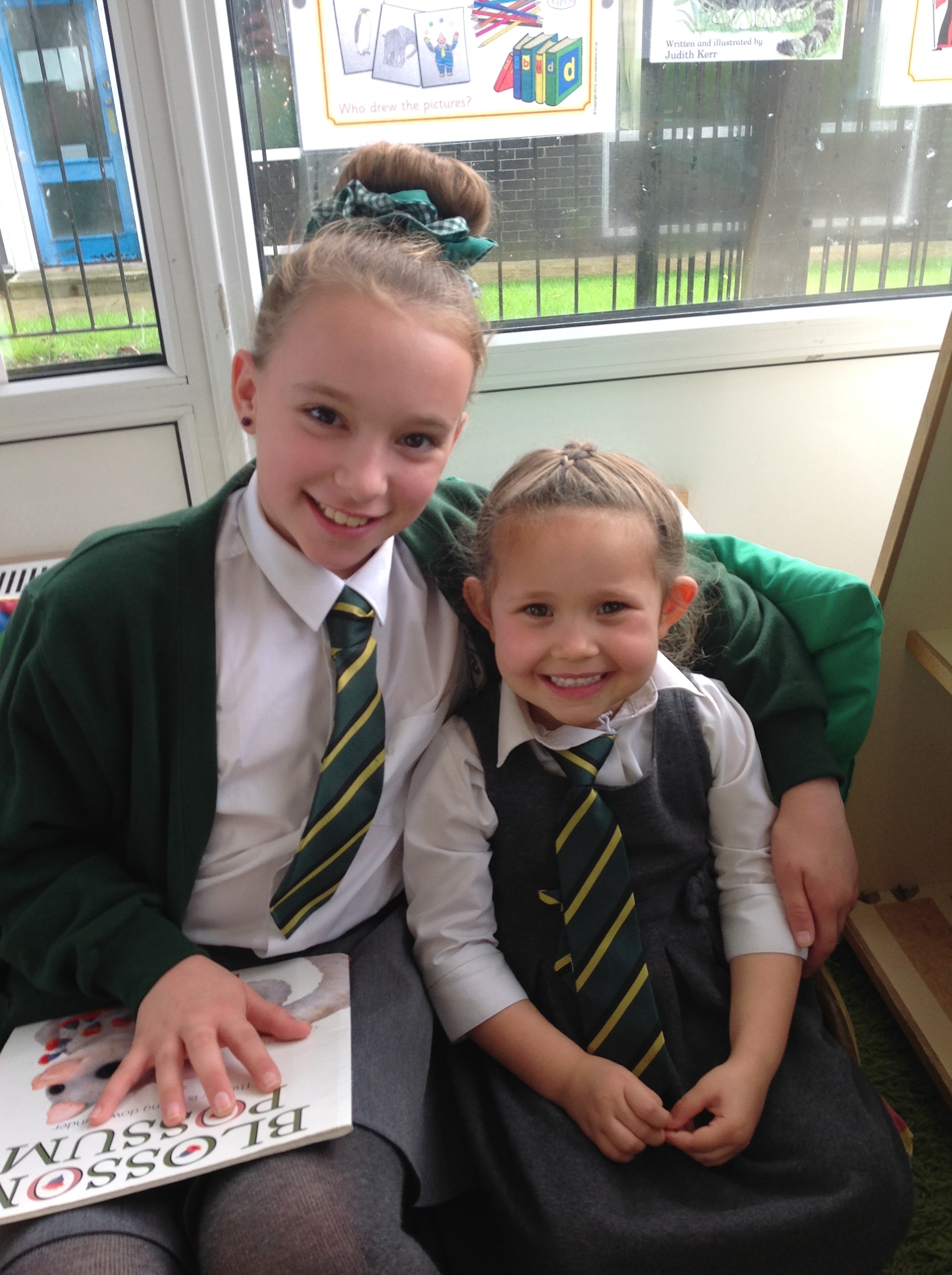 September 2017
What a wonderful start to the new term. The children have all settled into life at St Joseph's beautifully and we are enjoying getting to know each other. We have also been learning about the routines within our classroom and the rules we need to follow.
This week we shall be starting our phonics lessons. Please look out for your child's sound book that will be coming home this week with the new sounds they have learnt. Please support your child to learn these.
Here are just a few things we have been doing in our first few weeks at school. We hope you enjoy looking at the pictures.
Useful websites
Phonics Play