September 2014 - July 2015
In Year 1 we have 30 wonderful boys and girls. We work hard, have fun, learn lots and look after each other every day. Our teachers are Miss Celli and Miss Roberts.
Our classroom is very exciting and colourful. We have a story corner, Gruffalo roleplay area, a Winnie the Witch area for spelling, an interactive maths area, a making area, a malleable area, computers and we still manage to fit in all 30 children and the adults!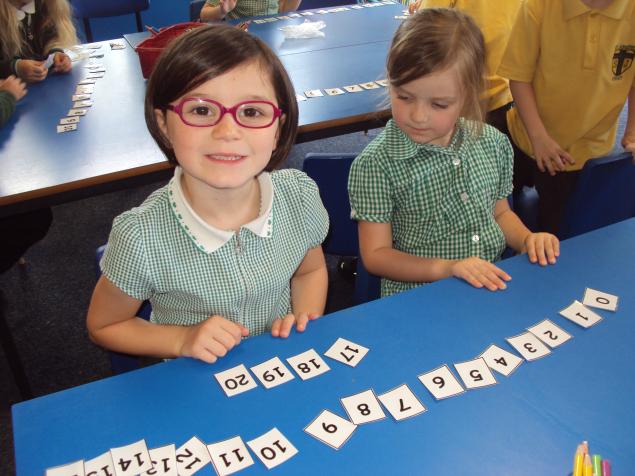 We have been ordering numerals.
We went on a Gruffalo walk to help us think of adjectives.
We scrunched and crinkled through the leaves listening carefully.
We looked at the gnarly tree with mushrooms growing out of it.
We can use IT in the classroom.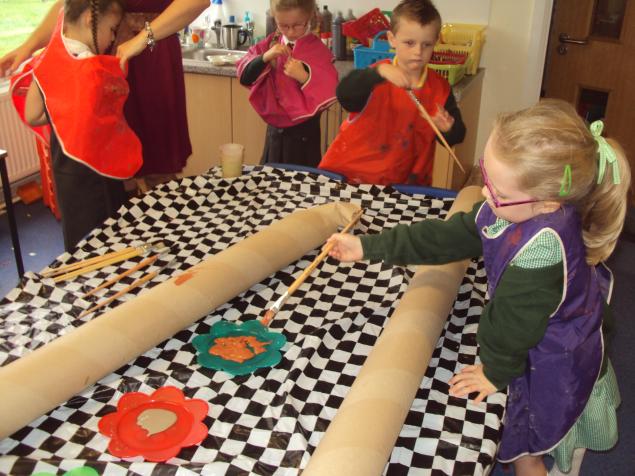 We are painting trees for role play.
Winnie the witch is going shopping to buy things to help us spell. We are writing shopping lists.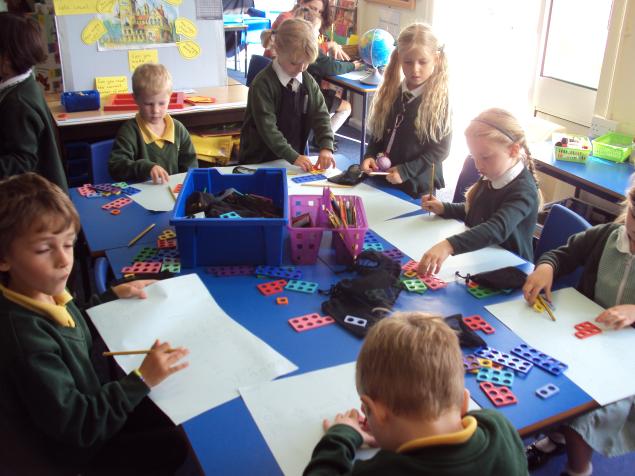 We have been using numicon.
I can use numicon to add and record in formal method.
In class we have been looking at money and the different types of coins up to 10p.
We have also been adding 1p, 2p and 5p to make 10p.
We know the difference between the sizes of each coin.
We used 'What's the time Mr Wolf?' to help us tell the time on the hour.
I know the difference between the big hand and the small hand.
In class, we were using cubes to estimate and measure some of the things we use, such as pencils, rulers and books.
As part of measuring in cubes, we also measured our feet.
This was to help us find who had the smallest feet and the biggest feet in class.
In science, we have been looking at different parts of the body and how it connects with our senses.
We were trying to guess what each food item was using our taste senses.
Then we had to write it down and draw pictures of what we thought it was.
We also used our nose to smell what was in the containers.
In english, we used the Autumn leaves to help us write a poem.
We came up with lots of adjectives to describe the leaves.
In maths, we have been learning about symmetry.
We painted one side of the butterfly, then folded it so it was symmetrical on the other side.
In class we have been estimating and comparing things with a metre stick.
We measured things shorter than a metre and longer than a metre.
The year 5's came to visit us for our buddy system and read to us.
They were all really nice.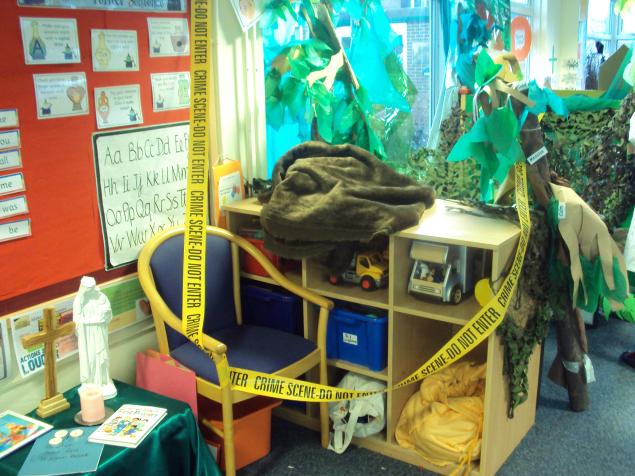 It's mystery week in school and someone has taken Winnie the Witch. We are being forensic scientist and trying to find out who it was.
We were mixing different chemicals and substances to see if there would be a chemical reaction to find out who took Winnie.
We also looked at finger prints and the different types there are.
In art we are looking at the work of Vincent Van Gogh.
We are recreating our own sunflower art work.
It's Winnie's birthday and we helped prepare food for her party.
We helped by cutting sandwiches into quarters.
And fruit into halves and quarters.
Year 1 trip to Leeds Town Hall. Jack told us many stories about Leeds town hall and other fairytale stories. Afterwards we went on an adventure to the woods beneath the world to see what we could find.
Here we are listening to Little Red Riding Hood.
Afterwards we went on an adventure to the woods beneath the world to see what we could find.
We visited the Christmas Tree Fair in Otley.
We looked at all the different charities and their christmas trees.
Thank you to all the parents that came with us and kept us safe.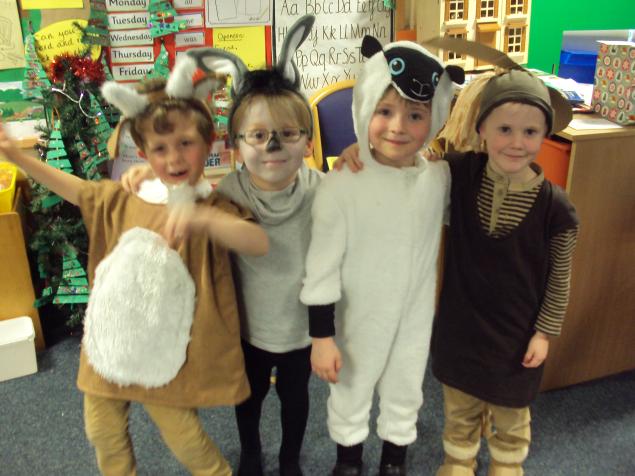 We learnt how to juggle with 3 balls.
We are very good at stilt walking.
The Dinosaur man came to visit our class.
We had a look at fossils found thousands of years ago.
We designed and made our own fossils.
We were very interested in dinosaurs and had lots of questions.
In science, we were experimenting with different materials to build houses for the 3 Little Pigs.
Some of us made brick houses from lego.
Some of made houses of straw.
And the rest of us made houses out of sticks.
However the Big Bad Wolf came along to blow our houses down!
However we found that the strongest house was the one made from lego and the Wolf couldn't blow it down!
Happy Chinese New Year!
We celebrated the year of the Goat with our friends from reception.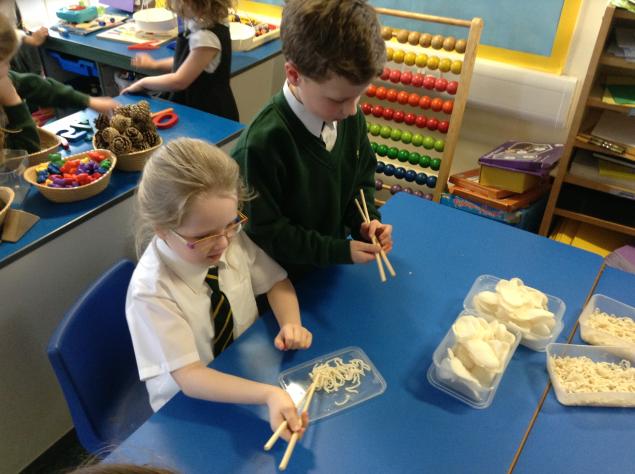 We tried different Chinese foods using chop sticks.
We also made traditional Chinese hats and made Chinese cards.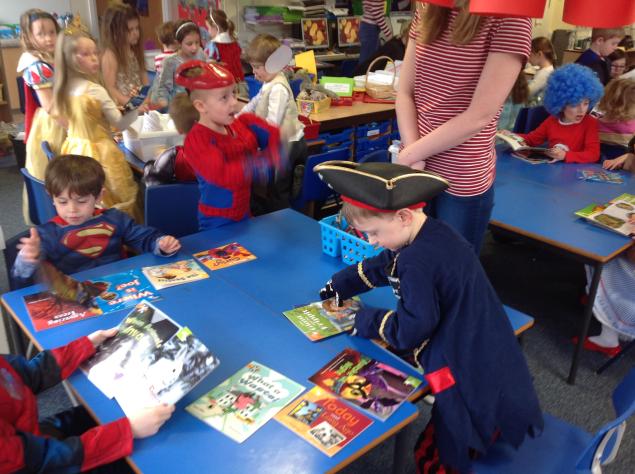 World Book Day
In class we looked at different types of books, fiction and non-fiction.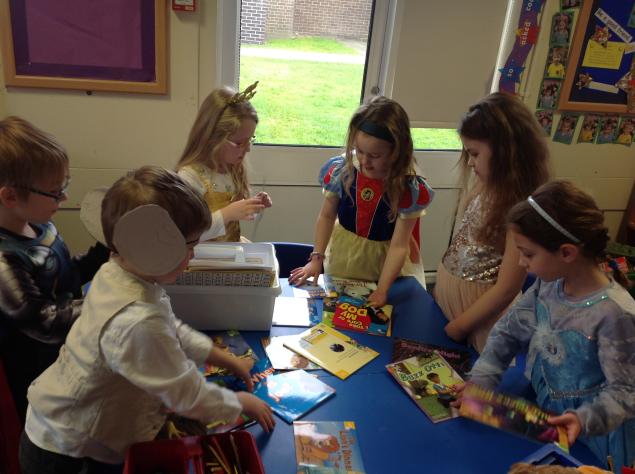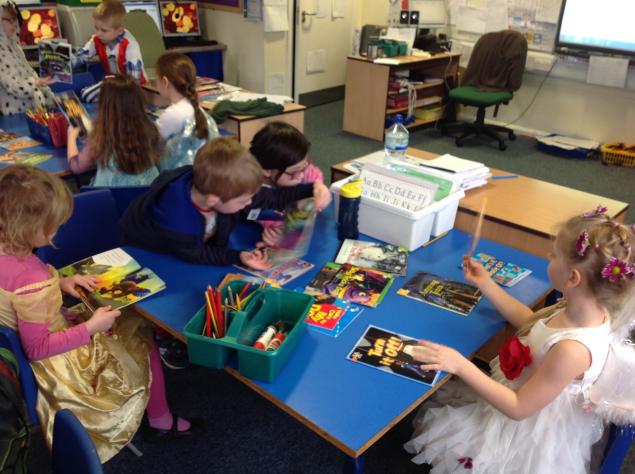 In science, we planted some herbs with our student helpers.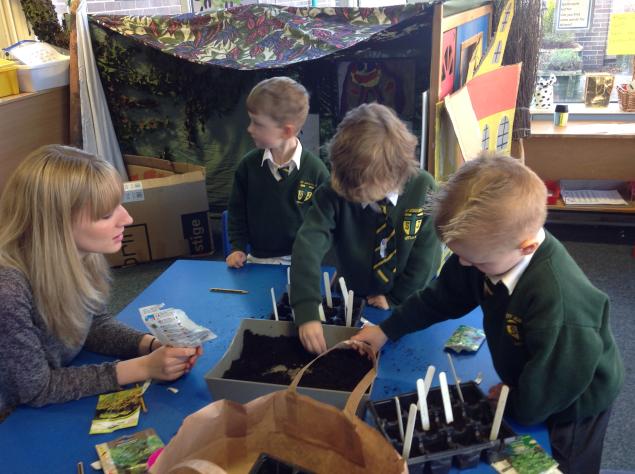 We understand and know what is needed to grow a plant and keep it alive.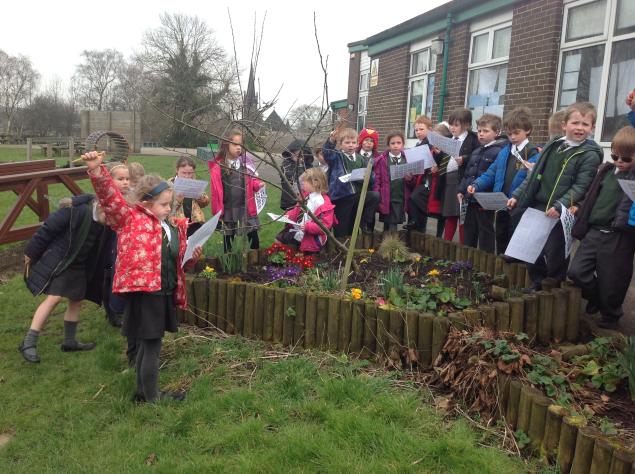 In science we identified and named common, wild and garden plants in our school garden.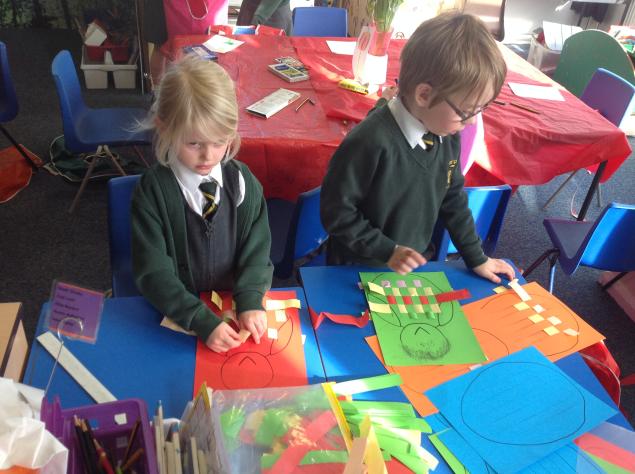 Easter!
All of KS1 took part in Easter activities.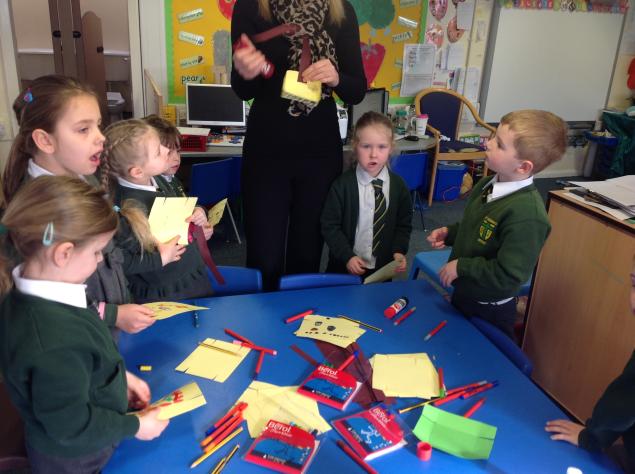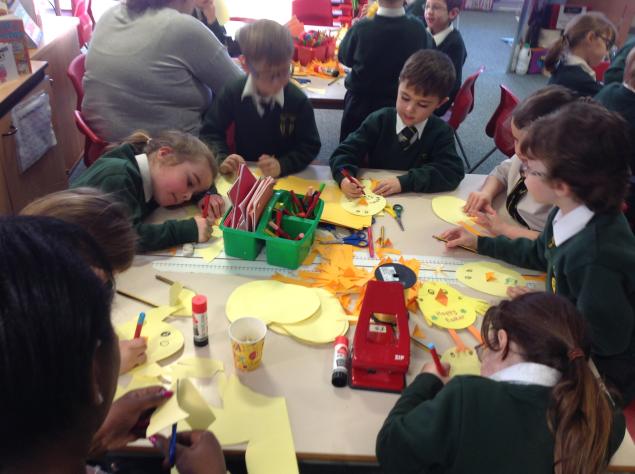 We made tasty chocolate nests.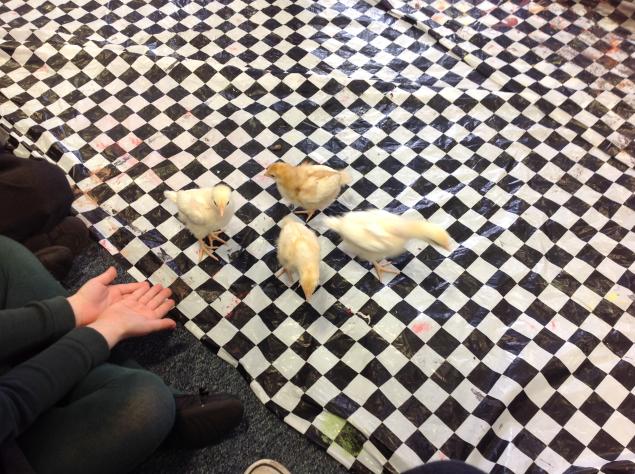 The chicks came to visit us and we got the chance to stroke them.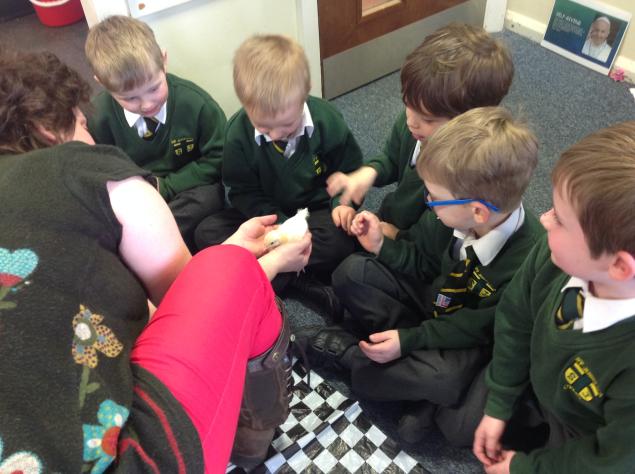 Topic week - Recycling
During recycling week, we learnt how to reduce our waste and recycle materials in school.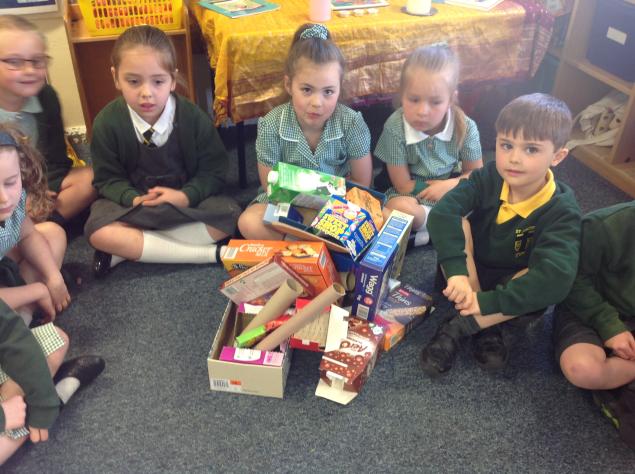 We sorted all the things in our recycling box.