Year 5
Year 5 is made up of 30 fantastic children, who work hard and have fun. We are a creative bunch and love writing stories, finding solutions to tricky problems in maths and enjoy learning many other skills like learning musical instruments. We enjoy praying together and joining together to share what we know about following in the footsteps of Jesus. We know how to be good friends and now we are in Year 5 we are ready to take on more responsibilities around school and help show the younger children how to make the best out of their time at St Joseph's.
Our teacher is Mrs Tremlett and our teaching assistant is Mr Voller.
Cultural Trip To Leeds
On Tuesday, Year 5 enjoyed a fantastic cultural day in Leeds. First, we visited Leeds Art Gallery. We learnt all about the art gallery and how it is run. We found out that the art gallery is funded through council tax meaning we can visit the gallery for free any time we want. We explored the different rooms and exhibits and made sketches of our favourite pieces. We left the art gallery just after lunch, the most highly anticipated part of the day (there is something about going out for the day that really works up an appetite).
In the afternoon we walked over the road to Leeds Town Hall where we were greeted by the grand building. We excitedly took our seats on the balcony ready to watch the talented young musicians in Leeds. The Leeds City Youth Orchestra put on a fantastic performance, including some songs we knew like Happy and others we weren't so familiar with. We loved seeing how all the different instruments worked together to create a fantastic sound. We have been inspired to put on a fantastic perfomance ourselves next Tuesday where we will be treating the audience at Yeadon Town Hall to two African drumming pieces.
Click the picture to see more
World Book Day
After a snowy start to March, we finally were able to enjoy world book day on Monday.
We loved dressing up and sharing our favourite books with each other.
We wrote stories putting our characters in to different books. For example, Monty's story was about a Japanese ninja in Peppa pig world and Lily re-wrote the hunger games in her own way.
We love reading in Year 5, so we enjoyed having the opportunity also to partake in quiet reading.
Click the picture below to see all our fantastic costumes
Positive Mental Health
This week we have had a real focus on our new PSHE topic 'Mental health and well-being'. We have learnt that keeping ourselves mentally healthy is just as important as keeping our bodies healthy.
We have discussed ways in which we can keep ourselves healthy including, exercising and eating well, keeping ourselves clean, doing things we enjoy, socialising and understanding our feelings. We know things we can each do personally to make ourselves feel happy if we are feeling sad.
"I like playing with my dog if I ever feel sad or angry," said Billy.
"I like to listen to audio books," explained Ellie.
Understanding that everyone we know experience happy and sad emotions helped us to understand that it is OK to feel sad, angry or upset and that we are never alone in these feelings.
Space week dress up day
We love dressing up in Year 5! Look at all these fantastic costumes from our space topic week. Click through to see our outfits.
Handball Competition
On Thursday 11th Jan, Year 5 took part in a handball competition at Prince Henry's Grammar school. We competed against two other local schools. The event was organised and run by the sixth form sports coaches and followed on from the lessons last half term by Mrs Fenton Green from PHGS.
We really enjoyed the competition and played lots of different games. Some of us found the games were highly competitive, others thought they were less so and just enjoyed playing against other children.
"We enjoyed playing, it was so fun. I scored 2 goals and my team worked well together. We passed a lot to each other and found a good space," said Ned.
"Team work makes the dream work," Said Billy and Clara.
Mrs Tremlett was so proud of all the class as they all worked extremely hard in the games, worked well as a team and were excellent sports. We were proud to come in joint second.
Our Commitments
In RE we have started our new topic 'Inspirational People'. To start our new topic we have thought about commitments, the things that are most important to us and how they affect our lives.
We played a game in groups of 4 called 'The commitments game' in the game you had to order your commitments. Some of the commitments were things like 'get better at football' and some of them were things like 'loving my family' or 'never being racist'.
After the game we compared our responsibilities with each other, we all had different priorities. We also thought about the commitments of other people and characters including Shrek and Spiderman.
Merry Christmas from Year 5!
Evacuation
On Wednesday 18th October, year 5 went back in time.
The date was 1st of September 1939. The great evacuation.
Click the picture below to see more.
On this day thousands of children were evacuated from London to the relative safety of the countryside. They were piled on to trains with just one small case of their belongings, a gas mask and a placard identifying them.
The classroom was transformed into Paddington train station. The children we given a placard to wear for the rest of their long journey down to Devon. Filling on to the train, there was a nervousness in the air, the children were being evacuated!
Mrs Tremlett became an unforgiving, 1930's teacher and the children were expected to act as 1930's children would. They all received a jam sandwich for the journey just like in our new class book 'Friend or foe'.
The children talked about their thoughts and feelings, their worries and concerns and they started to understand what a difficult experience the children went through.
Then on Thursday, the children wrote letters home to their mothers. Telling them all about their experiences on the train and what their new life was like in Devon.
Exploring our new class book
We looked for clues about our new class book through tiny windows. We could see interesting colours, sections of pictures and a range of different things. From this we decided on the genre, the theme and what we thought it was going to be about.
British Sign Language
During topic week 'Everyday Heroes', we learnt how we can be heroes to others. We learnt all about different ways to communicate and how being able to communicate with someone may make us a hero to them.
For that reason we learnt the alphabet and a few simple greetings in British sign language. Click through the picture to learn how to sign each letter.
Firefighter visit
Having two fire fighters join us in school was a very exciting experience. We found out all about how to stay safe at home. We were able to ask lots of questions to the fire fighters too. One lucky person was able to dress up in the firefighter uniform. Mason was chosen, he said, "It's red hot in here!" He couldn't believe how warm it was.
St Francis Day
We celebrated St Francis' feast day on the 4th October. We know St Francis saw God's fingerprint in all of nature. He is the patron saint of animals and nature. So on our special celebration day we dressed up as animals and spent the day learning about St Francis and his life.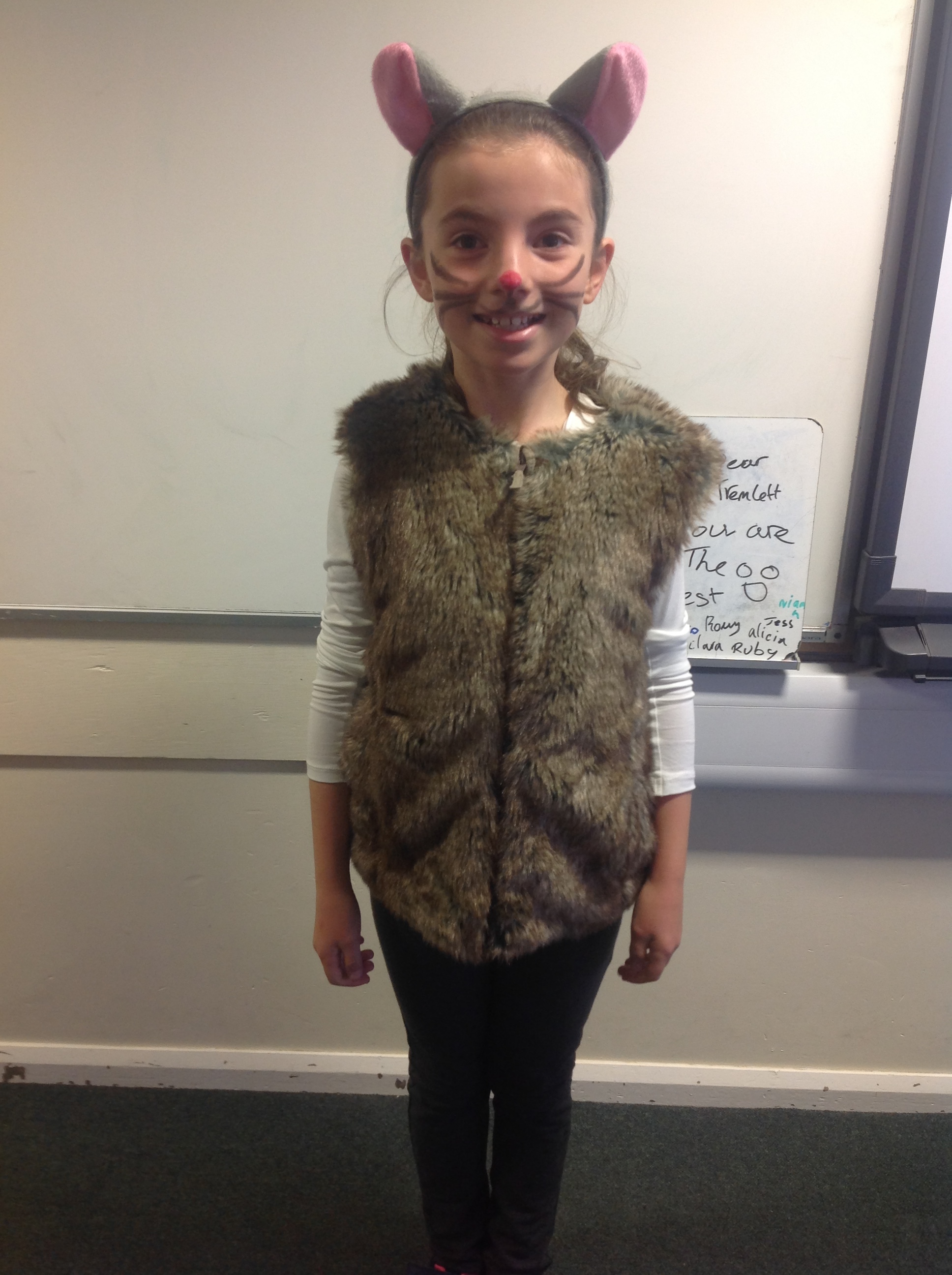 Our Special Trust Mass
On Thursday 21st September, we went to Leeds cathedral to celebrate a very special mass with other schools from the Bishop Wheeler Catholic Academy Trust. It was such a special mass that Bishop Marcus lead it, with help from lots of other priests including Father Lawrie.
Here we all are with Father Lawrie after mass.
Bishop Marcus also noticed that it was Eliza's tenth birthday, as she was wearing a birthday badge. After the mass, he came to find us and asked if Eliza wanted a photo, of course she said, 'Yes please!'
Leeds City Museum
We had so much fun at Leeds City museum on Thursday 21st of September. We loved exploring all the different rooms the museum had to offer. We learnt about different animals; some that are extinct, some that are cleverly adapted to suit their environment and others that are just plain cool. We also found out all about the history of Leeds. Did you know Leeds has been a town since the stone age?
One of our favourite parts of the day was dressing up in all the fun costumes. Click the photo below to see some of the best costumes.
Of course the day wasn't just about dressing up, we did lots of learning too!
Click through to see the rest of our pictures.
Altar serving
We are so proud to have so many altar servers at our school. Lots of them are from Year 5, with 11 in total. Here they are looking angelic as always with Father Lawrie.
We are waiting on information from the parish about new altar serving training, we will let you know about how your child can train as an altar server soon.
Reading Buddies
The time has finally come that we can have our very own buddies. We were so excited on Thursday to be joined by our buddies for the first time. We how we can be a good buddy and we can't wait to help mentor the year one children and help them to improve their reading. We also learn lots of skills too, like listening to others, helping others without giving them the answer straight away and how to make our reading exciting to listen to.
Here we are with our buddies, click the photo to see more.
...and here we are reading well with our buddies too